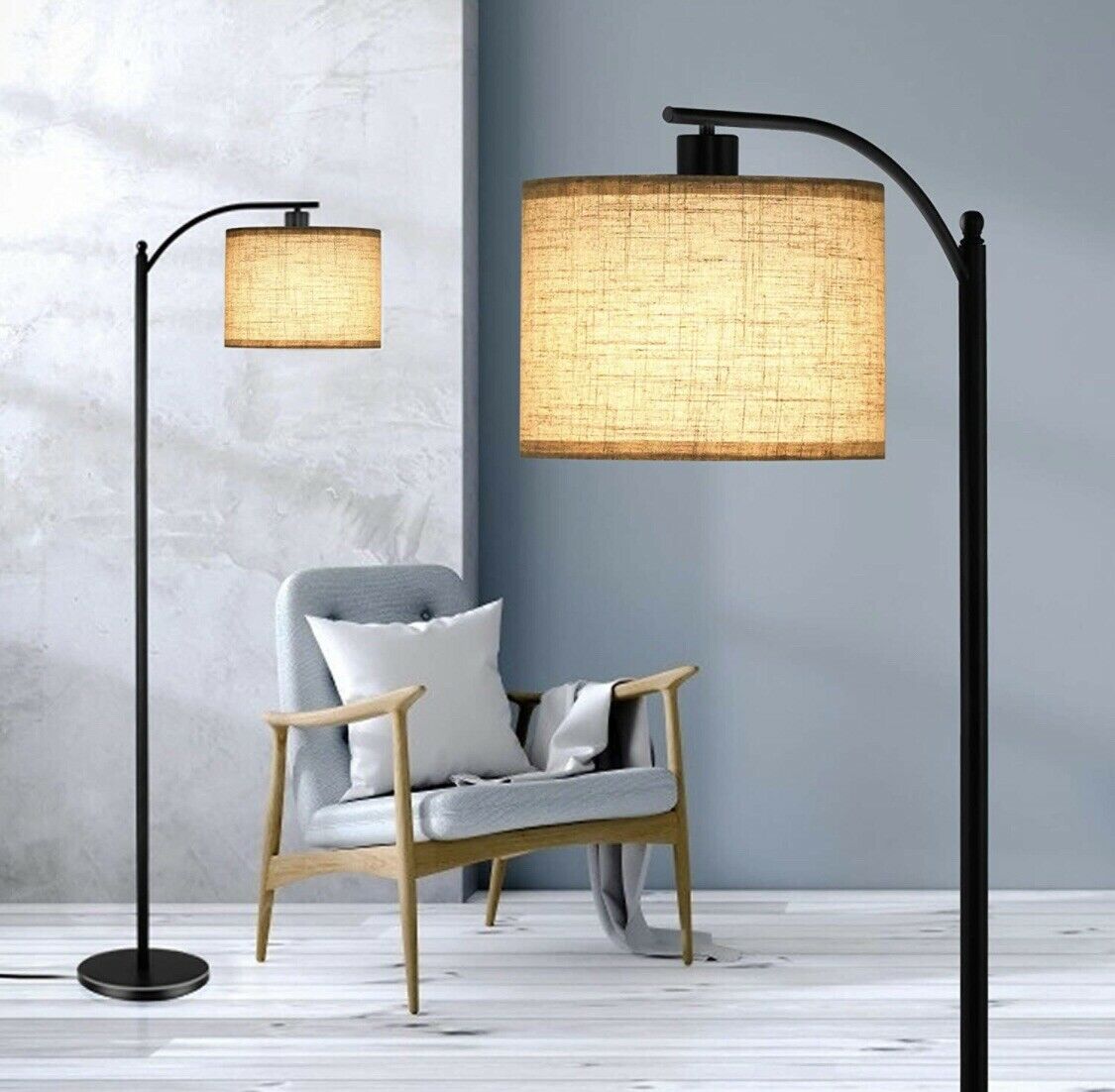 14 Mar

10 Best Floor Lamps for the Living Room – Energy Saving

Are you looking to modify your living room this year? A floor lamp is a great way to do that because it adds to the style and appearance of an area without taking much cash out of your pocket. We examined and compared hundreds of lighting options. Today, we will focus on the ten best floor lamps for living rooms. We have selected a variety of models that will suit traditional as well as modern homes. It's a small list, so you can choose one of them without any confusion.
Best Floor Lamps for Living Room to Purchase in 2021
| | | | |
| --- | --- | --- | --- |
| | | | |
| | | | |
| | | | |
| | | | |
| | | | |
| | | | |
| | | | |
| | | | |
| | | | |
| | | | |
1. Brightech Sky LED Torchiere Super Bright Floor Lamp
Out first recommendation from Brightech comes with a robust LED light that is built to last and never contributes much to your electricity bill. Due to its brushed nickel finish, Sky is suitable for any living room décor. You can also use it in your bedroom, office, or any other area where you need some extra light.
If you live in a busy household where kids can tug on the fixtures, then you will appreciate the stability it has to offer. The weighted base of the super bright floor lamp is stable, which keeps the structure secure. Even if your kids or pets are playing, the lighting fixture will not tip over due to their actions. Moreover, its LED light never overheats, so you can be sure no one will experience a burn, minor or major.
Brightech leaves no stones unturned to give you the latest technologies in this floor lamp. So, you can also connect a smart plug with the lamp to control it through Alexa or any other home assistant. Its assembly is easy because you only have to follow the included instructions and diagrams. If you face any trouble while assembling the fixture, you can get support from the manufacturers.
2. Brightech Montage
Our runner is also from Brightech. So, what sets it apart from the rest? Well, it's a unique floor lamp that looks great in a conventional house but has a design that also mixes well with modern houses. It works with Amazon Alexa or Google Home, but you need to invest in a smart plug to make a connection. Once paired, let it stand anywhere in the house and technology will take care of the rest.
Montage is a great mix of traditional and modern styles. Apart from adding some class to your living room, it makes fewer impacts on your electricity bill due to an energy-efficient nature. The brand promises to give you all the shine you need without increasing your utility expense.
The floor lamp comes with everything you need to set it up, including a 9.5W LED bulb. This energy-saving bulb has 3000 Kelvin color temperature and 800 lumens. It's a robust light and lasts for a lifetime. Montage lamp has a 5 feet thin pole that is suitable for reading or working. Overall, it's a top-class living room lamp.
3. Stone & Beam Living Room Standing Floor Lamp
What is the purpose of a floor lamp? To add more light to an area, right? But it also changes the dull décor of a living room to a happening one. These are the two primary reasons why the living room standing floor lamp from Stone & Beam deserves to be at the third position.
Overhead bulbs are very bright, especially when you are watching TV, working, or reading. However, this Art Deco-Inspired floor lamp is a nice lighting solution because of its smooth rays. Moreover, its four-legged design and white linen shade can make any corner look lively. This shade breaks down the light before it reaches your eye and also projects the shine upwards as well as downwards.
The Stone & Beam floor lamp's metal frame looks similar to a tripod. This stand has a back finish and is 4.9 feet (59.5 inches) high, making it useful as well as stylish. The product is easy to assemble and fit for only indoor usage. Wherever you use it inside the house, the lamp fits well with the existing décor and surrounding accessories. It's easy to clean and durable, and due to a compact footprint of 18 inches, you can easily place it next to your sofa or any other sitting arrangement. A LED bulb is included and there is an onboard power switch for control.
4. Brightech Emma LED Tripod Floor Lamp
Another beauty from Brightech makes a "bright†entry at number five, and this time it's the ravishing Emma. She is a three-legged floor lamp that comes with an affordable price tag and makes sure you don't have to pay extra bills. All thanks to an energy-efficient 9.5 Watt bulb worth 800 lumens, with a working life of 20,000 hours.
One of the attractive features of Emma is her natural build. She has a wooden base that looks trendy, but never over the top with any of the living room interiors. The off white shade complements the brown base and adds style to an area.
If you are modifying your house to include some of the automated accessories, then Emma can be a great addition. She works with Alexa, Google Home, or any other home assistant you like. So, you can hit the lights without even changing your position. To eliminate any jitters in your purchase, Brightech ships Emma with three years of warranty.
5. LeeZM Industrial Floor Lamp
Enjoy beautiful lighting with this attractive industrial fixture by LeeZM which creates a soft and inviting aura inside a living room. Whether you have to meditate, work, study, or enjoy some free time with your friends or family, it gives you the required amount of light.
The industrial floor lamp is 65 inches tall and uses black metal as the primary construction material. It has a base diameter of 10.5 inches which keeps the lamp stable and safe. Three (3) beautiful lampshades made of mesh cage distribute the light 360 degrees around and keep you cheerful. Moreover, its vintage rustic appearance fits almost any interior design. So, you can use this floor lamp in the bedroom, kid's room, foyer, office, or college dorm.
LeeZM floor lamp comes with three E26 base Edison style Incandescent light bulbs and a 5.6-meter power cable for comfortable usage. Due to detailed installation instructions with diagrams, you can easily assemble the unit and plug it in a power outlet to start using it.
6. NXONE Led Reading Standing Lamp
Our next recommendation from Teckin gives you superior performance and makes your daily activities more comfortable as well as enjoyable. This floor lamp comes with 3 color temperatures, including 3000K warm white, 4000K natural white, and 6000K cold white to suit the mood or the environment. It also has a memory to remember your lighting preferences.
Apart from color modes, this floor lamp has 4 brightness levels; you can use it in super bright, bright, moderate and dim light as per your preferences. Its flicker-free bulb illuminates the room and gives you an anti-glare light that you can use for reading, working, or just chilling out with your friends over the weekend. With such features, Teckin lamp is a one-stop answer to all your lighting needs.
Teckin floor lamp has a 5.1 feet (62 inches) stand with a sturdy base that provides optimum stability when knocked by kids or any of your pets. This slender pole makes it easy for you to move the lamp from the living room to the bedroom or any other area. It gels well with any environment so you can use it anywhere in the house, office, restaurant, hotel, or any other commercial site. It also has a robust lamp shell that keeps the internal bulb protected.
7. Globe Electric 67065 Barden Floor Lamp
The beautiful Globe Electric 67065 comes with a linen shade that rests on a 4.8 feet (58 inches) matte black stand. Due to a sturdy weight of 11.22 pounds, the structure never topples. It brightens your living room, but for that you need to purchase an E26/Medium Base 60W Bulb as a separate item.
Globe Electric Barden floor lamp is affordable, it delivers a bright yet diffused light to the living room and gives you a warm feel. Due to an included 5 feet power cable, you don't have to place the floor lamp adjacent to an outlet. So, the Barden lamp gives you the freedom to use it anywhere in a room.
Barden floor lamp has a unique geometric bridge arm at the top that allows you to place it behind the couch and still get a sufficient amount of light. Such a design makes it suitable for all living rooms, irrespective of the interior decoration.
8. Aaron Mid Century Modern Floor Lamp
Are you fancying a retro floor lamp for your living room? Then this aged brass 3-light floor lamp with an antique look could be the right solution. It's 64-inch tall and also has a 10-inch base that does not take up much space in your living room and makes sure it never crashes on the floor.
Each bulb head swivels for 360 degrees and you can also tilt them up to 180 degrees. You can choose the bulbs to use in this mid-century lamp as they are not included with it. It supports 40-watt bulbs, so you should select them accordingly. We recommend that you use LED bulbs because they are energy-efficient, long-lasting, and provide a sufficient amount of light for reading or working. No matter what bulbs you choose, the antique lamp by 360 lightings comes with a 5 feet power cord that allows you to enjoy the light anywhere. Moreover, the unit weighs only 10 pounds, so you can easily change its location without any help.
9. Ikea "NOT" Floor Upright Lamp
None of the discussions about floor lamps is complete without an addition from Ikea, the lighting maestro. You might think a stylish LED lamp like this would suck deep into your bank account. However, Ikea NOT gives you high-quality illumination at a price tag that is almost nothing when compared to other expensive models on this list.
Ikea upright lamp packs an energy-efficient 5W LED bulb that gives you the required illumination but never forces you to pay a stiff electricity bill. Built with ABS plastic and powder-coated steel, NOT is easy to maintain. Use a soft cloth to wipe out the dirt and it will be fine for a week.
The floor lamp has a height of 69 inches and its base has a diameter of 10.5 inches. Its 3.3 feet power cable spoils the minimalistic look, but you can ignore such minor breakers after looking at its affordable price tag.
10. Adesso Trinity Arc Floor Lamp
We tested the Trinity Arc floor lamp for quite a long time because some of its users reported that the fixture is unstable. We know that it's a negative way to start a description, but we added this lamp to this list because we found that it is stable enough.
Trinity arc comes with Burlap drum shades suspended from finished curved arms, giving you sufficient coverage for a large area. With a four-way rotary switch, it provides you with plenty of methods to control the included lampshades. Illuminate the side, center, or all three at the same time if you need bright light. You can use CFL bulbs, LEDs, or traditional incandescent bulbs, according to your preferences. Keep in mind that none of the bulbs are included with the unit.
Due to a height of 82 inches, Trinity Arc gives your room a treat of warm and comfortable light that you can enjoy with your friends or family members. It is compatible with a smart plug, allowing you to control it via a home assistant. You can also change the height of its arcs without using any extra tool.
How to choose the Best Floor Lamps for Living Room?
A floor lamp for the living room is a simple product that is easy to acquire. It's what many of us might think, right? However, the situation changes when you browse Amazon and witness thousands of models swimming in front of your eyes. Floor lamps are not complicated, which is right. Still, you need to consider some of the elements to filter the options and choose one that'll meet all your needs.
Take a look at your existing furniture and interior décor
Before you start searching for a new lamp for your living room, spend some time to check the color scheme and settings of your existing furniture as well as other surroundings. This step will determine which floor lamp will fit the existing infrastructure. Purchasing a fixture without knowing whether it would mix well with the other objects in your living room could be an expensive mistake that you might regret later.
Make sure the lamp is stable.
If a floor lamp topples over easily, then it's a health hazard for your family members, especially if there are kids or pets around. So, you should be certain that a floor lamp has a robust and stable design.
Dimensions of the living room.
The size and layout of your living room is also important when browsing for floor lamps. If the area is compact, then you should choose a product with small dimensions and footprint. You can go for arc lights if you have enough space in your lounge.
Do you want a portable floor lamp?
Are you planning to leave the floor lamp in your living room forever? Will you change its location as per requirements? If you are an individual who regularly alters the decoration of your house to maintain some freshness, then investing in a heavy lamp will not be beneficial. On the other hand, if you are not planning to move the lamp then you can invest in an arc lamp or any other heavy model according to your choice.
FAQs about Floor Lamps
What is a floor lamp?
Lampshades that stand on a pole to hold a bulb at a certain height from the ground are sold as floor lamps. They are generally used in restaurants, guest rooms, lounges, and bedrooms to add some light and style.
Which floor lamp is the brightest?
Brightech Sky LED is the brightest lamp for your living room. In fact, due to its pleasant illumination and ability to dim, you can use Sky anywhere in your house.
Where can I put a floor lamp in a living room?
You can place a floor lamp anywhere in the living room. However, avoid busy areas or paths where people pass when entering the gate or going to another room.
How much does a floor lamp weigh?
You can expect a floor lamp to weight up to 21 pounds. However, the weight depends on the make and model.
How do you baby proof floor lamps?
Buy a floor lamp with a stable base that cannot topple over if any of your kids try to knock it over. Apart from the base, you should also take care of the power cable, because a kid can pull the power cord and the lamp will fall. So, try to run the cable under a piece of furniture or carpet, or tape it to the ground. Secure the extra length by coiling it together using wire clips or Velcro tape.
Which bulb is suitable for a floor lamp?
LED bulbs are seeing all the buying rage all over the world because they consume less power, spread more light and are durable. They are eco-friendly because of lower global warming potential and also cost-effective when compared to other varieties. The initial price is high, but in the long run, you will not have to look for a replacement because of their long life. So, we recommend you use a LED bulb for your floor lamp.
Conclusion
Add some style to your living room with a delicately designed floor lamp. It will not only add some light to your lifestyle but also complement other objects for a great appearance.
We have tried to include a variety of options from different price ranges, we will feel lucky if you can find an appropriate option after reading this post. Read the reviews, check the buying guide, and you will be able to get the best floor lamp for your living room.
Read More: Living room decorating ideas