What Are Reed Diffusers?
For those who want to have an additional fragrance to their homes and even apartments and office spaces, reed diffusers will do just the trick. Reed diffusers are becoming more and more POPULAR because of their practicality of being used without the need for heat or flame. This is a great way to ensure constant and LONG LASTING FRAGRANCE in any area and room inside your house, an apartment or even office space. Moreover, reed diffusers deliver their fragrance as the fragrance oils seep up through the reed sticks then now disperse fragrance and spread into the air.
Best Smelling Reed Diffusers To Buy in 2022
There are many great diffusers that you can find out in the market both in physical and online stores. Amazon.com also has a lot of reed diffusers that are guaranteed safe and trusted. You just have to know which scent would suit you and be best to be used inside your homes, apartments, and office areas. Amazon and other online stores selling diffusers may help you in finding which you think is the best scent diffuser for you.
Home + Decor Proprietary Blend Reed Diffuser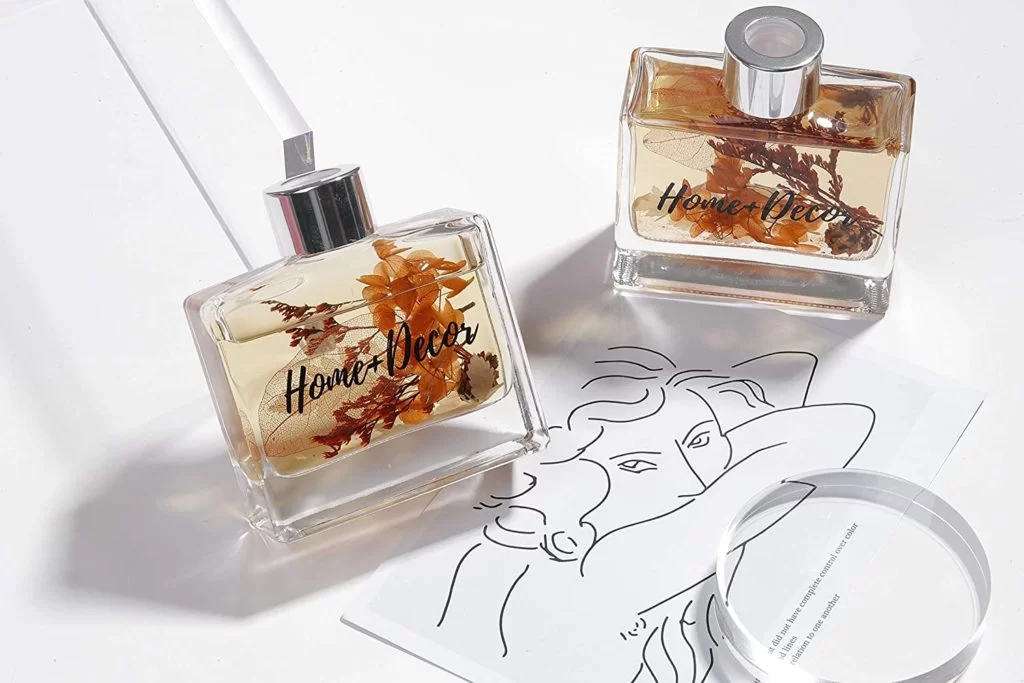 We tested this diffuser for over 2 months, and this is hands down our favorite reed diffuser of 2022. Their diffuser scent is a blend of Brazilian orange, bergamot, spearmint, eucalyptus, sage, and hints of cypress wood. It's reminiscent of the Hermes signature smell, but not as overwhelming. The diffuser lasts months, and it's the one we're constantly buying for the office.
Jo Malone London English Pear & Freesia Scent Surround Diffuser
The scent of this diffuser is mostly a combination of both delicate white flower scents of freesia with juicy King William Pears and added base wood, earthy scent. The scent once diffused is a bit unusual, but it is not overpowering and will relax you. The scent it diffuses is subtle, so you are sure that you won't be getting headaches when you use this though a downer to this diffuser is the higher price tag that comes with it.
CB2 Bergamot and Fir Reed Diffuser
The diffuser gives you the balanced scent of feminine and masculine. The scent it diffuses is more subtle with a bit of freshness and a hint of woodsy feel. Though the most evident aroma is citrus, the lavender and tobacco give a bit more power but are still not the overpowering type of scent. Its price is also great at $29.99.
Skandinavisk Lempi Diffuser
The diffuser gives you the scent and feels of spring, given its fruity-floral scent. This is most popular in Europe. What's so great about this diffuser is it gives the scent of actual natural strawberries with added oak moss and florals to its structure. All these aromas combined give the fragrance a more grown-up feel but are still mostly innocent and sweet by heart. Same as the first, the owner is a high price tag.
Molton Brown Gingerlily Aroma Reeds
This exotic diffuser gives you a taste of the breeze during a hot summer day. For those who are addicted to Tuberose, this is the diffuser that you certainly must have. The diffuser gives an out scent and aroma of Tuberose through and through. For those who have no idea what is tuberose scent, it is a scent that doesn't lean far from the scent of Jasmines. Aside from the Tuberose, there is also added cedar to keep the scent subtle.
Ashley and Co. Vine & Paisley Diffuser
A diffuser that is guaranteed to be long-lasting comes with a bottle and box that is biodegradable and recyclable. Guaranteed and trusted to be nature-friendly. The fragrance that is powering is sandalwood and vanilla. These two on their own can be too powerful for everyone's liking, but thanks to the added sweet lovely hint of vanilla scent, the diffuser now gives an earthier feel and smell. Aside from this Vine and Paisley scent, Ashley & Co. has already produced 8 different aromas and scents across their range of about 50 products. All scents by Ashley & Co. are a great smelling, and some even have exotic scents such as mimosa, mandarin peels, and wild jasmine.
Aroma works Spearmint and Lime Diffuser
Budget-friendly but still offers a great scent. This diffuser is all-natural and simple, which makes it perfect for any home. The scents play around with zingy citrus and notes of cheerful lime blends along with hints of fresh and spicy mint and topped off with the pure fragrance of bergamot and lavender. With all scents combined, it is just all about relaxation and all in all lovely and serene.
Tim Dixon Royalty Diffuser
If your gift idea is giving a diffuser, this would be the perfect one to give. It's not just expensive-looking but expensive-smelling too. The scent is more just the right amount of simplicity and masculinity. If you can't picture or grasp the smell, think of this as your father's best cologne. To make it simple, this diffuser is ultimately bergamot-based. Again, this diffuser comes with a high price tag with its expensive look and smell.
Dr. Vranjes Rosso Nobile Reed Diffuser
This is said to be the best long-lasting diffuser you can find on the market. Although some would say that once you smell it, you get the scent of red wine, the scent of this diffuser is more of a sophisticated and very elegant take on a red berry fruit scent. This would give you a more grown-up and realistic feel of fragrance without the bubblegum feel of aroma that you would get from some diffusers. Downer again is the price, but if you buy it from Europe, you will get it at a cheaper tag.
Tom Dixon Earth Scent Diffuser
It is guaranteed to be the best among sophisticated and elegant diffusers. It's opulent but with an unusual scent that gets everybody guessing upon smelling its aroma. The scent was perfectly designed and combined. The fragrance of this diffuser is mostly made up of cedar and mint mixed to create the perfect melody a masculine yet still green and fresh scented diffuser.
Good Nature Soy Reed Diffuser in Avocado Mint
This is considered the best natural diffuser with its all-natural pure-based scent from essential oils. The fragrance is mostly avocado mint, which is a great scent if you have pets and little children running around as it is very natural and essential oil-based no worries about harmful chemicals with this diffuser. Aside from the Avocado mint, you'll get hints of mint, lime, and eucalyptus. This is a rejuvenating and relaxing diffuser and, at the same time, with the vibe of being fresh and fun.
West Elm Angled Metal Reed Diffuser Tonka Noir
For a cozier, more relaxed ambiance, you should get this diffuser. It gives you a scent that feels like you are being wrapped up in a warm hug. As it is sophisticated, elegant, and rich, it also has the feel of being zesty and inviting. The diffuser is made up of night-blooming jasmines, rose essence, and mandarin combined with hints of sandalwood, Tonka beans, and Madagascar vanilla.
Benefits Of Having A Reed Diffuser
Aside from reed diffusers being great for dispersing home fragrance, there are other surprising benefits of why you should have a reed diffuser. The benefit of your reed diffuser will depend on what essential oils are used to make it and what purposes it serves. Some diffusers may help in memory and focus. Some reed diffusers contain essential oils that work well in promoting FOCUS, COGNITIVE FUNCTION, and MEMORY. Essential oils that can help with that are Lemongrass, Rosemary, Tangerine, Basil, and Spearmint oils. These oils keep you relaxed and, at the same time, clear-minded, focused, and alert. Other reed diffusers serve as an insect repellant. As insects are prone to be found inside homes, most are looking for ways to REPEL them NATURALLY. With reed diffusers, there are specific aromas that can work wonders and will help you repel insects without the use of any chemicals. Aromas that work as deterrents are Geranium, Lavender, Clove, Lemongrass, Peppermint, Cinnamon, and Rosemary. Another thing to note, a combination of Clove and Lemongrass is a killer in repelling mosquitoes. Reed diffusers can also give added allergy relief. Everyone would agree that allergies are a major pain. All that sneezing, itch, runny nose, hives, and other forms of allergies are terrible. Taking allergy medicines doesn't also work well and is good for everyone all the time. For those who are looking for natural ways to EASE ALLERGY SYMPTOMS, reed diffusers can be the answer. Essential oils that can help you breathe easily are tea tree, peppermint, basil, and eucalyptus.
Do Reed Diffusers Work?
Reed diffusers work great and are helpful in certain functions to your health, depending on the essential oils used in them and the aroma it produces. These are ENVIRONMENT FRIENDLY and don't emit any soot on your walls and ceilings, couch, es, or furniture. Hence, the assurance that everything stays clean and neat. Reed diffusers are guaranteed to be POLLUTION-FREE and safe, which can assure users of having their reed diffusers even up to 3-4 months. These have natural oils, thus, making them fit and safe for human consumption. Reed diffusers are proven natural and made health-friendly. With reed diffusers, you won't find it hard to start relaxing inside your homes or apartments, given the cozy fragrances and sweet smell of diffusers. Given that most diffusers are made out of natural and essential oils, it is not just relaxing but healthy and nature-friendly as well. The diffuser works perfectly!
How Long Do The Scents Last?
Reed diffusers are said to be a month or even more. This will depend on certain factors, such as the opening and closing of the door, heating, and air conditioning. A 10 ml bottle of reed diffuser can last a week if it is continually being used. If you want to save more, you should buy the 100 ml reed diffuser, which can last for about 2-4 months depending on use and home or room temperature. For you to keep the scent regularly refreshed, turning the sticks at least once every week is the right trick to do.
How Do These Diffusers Work?
To get the scent out, these are easy to use and have no need for heat or flame. The reeds or sticks have to be inserted into the glass jar or bottle of the scent diffuser with essential oils. The reed sticks will now soak up the scent from the oils and start to emit aroma and fragrance into the air of your home, room, apartment, or office space. This makes it easier compared to lighting up scented candles that require a flame to diffuse the scents. Diffusers disperse natural fragrance and aroma, so it is fairly healthy and nature friendly.