Where do you spend your time while relaxing? It has to be your bedroom. The best thing about being in your bedroom is that you can have a fantastic time without any concerns. What if the bedroom gives you boring looks? You will think of some other place to relax rather than going into your bedroom.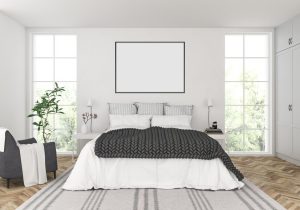 Source: Freepik
You can make your bedroom space of your own choice by decorating it according to your requirements. You can reduce your stress and get rid of tiredness by going into a clutter-free room.
Would you like to know how to make your bedroom ambient? Here is everything you need to know:
Change your old bed
In a bedroom, the bed is invariably the most important of all. Having an antique bed will make your room look unattractive. On the other hand, a decent and soft bed covered with stylish linen will increase the overall ambiance of your room.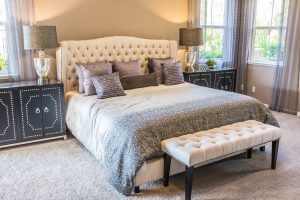 Source: Unsplash
These days, lots of beds at different prices are available. You don't need to go for the most expensive one, but do go for the elegant one. If you want to have a soft touch feel, make sure to use organic Egyptian cotton on your bed.
Here's the difference between: Organic and Non-Organic Cotton
Use neutral colors in your bedroom
A bedroom must give the feel of a bedroom, and not a dazzling ballroom. Use peaceful colors that can give your eyes a pleasing effect. Out of all the colors, neutral colors are best suited for any bedroom.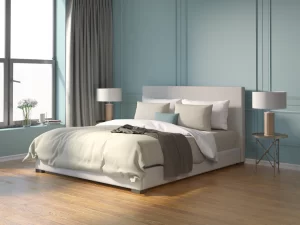 Source: Freepik
Make sure to use moonball light in your room that will give your room a tempting look someone else can even dream of. With the help of this light, you can create a lit candle atmosphere in your room. You can find some excellent moonball light collections at Inspire Uplift.
Avoid the clutter
It is necessary to have the right kind of furniture in your room, but most of the time, people use too many decorative materials and furniture in their place. This will decrease the space of your room, and your soothing ambiance will be lost.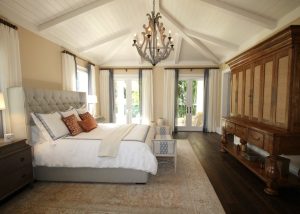 Source: Pexels
As we all know, simplicity has no replacement. According to modern bedroom designs, it is recommended to give a simple feel rather than giving an over-decorating feel to any bedroom. Make sure to use some of your favorite decorative materials, but not too many.
Use simple furniture
Your room's aura depends upon your furniture. Straight-lined furniture doesn't use too much of your room's space, which is why this kind of furniture must be preferred over others. Utilizing this sort of furniture won't cause any visual clutter in your bedroom.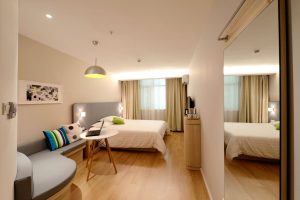 Source: Pexels
The use of furniture depends on the nature of your bedroom too. If you have a Victorian-style bedroom, you can use heavyweight furniture. On the other hand, using light furniture will use very little space and your bedroom will give a restful feel.
Use alluring window covers and blinds
Are you using both blinds and curtains in your bedroom? Get rid of it, and start using beautiful window covers and blinds. This will give your bedroom an airy feel that is required to keep the atmosphere fresh.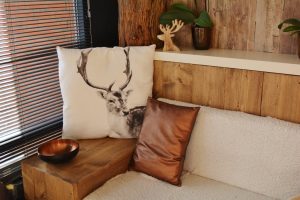 Source: Pexels
As far as the blinds are concerned, use the lighter ones, lighters blinds will allow more light to come into your bedroom. If your window is exposed to sunlight, you can use dark shades as well. Use straight paneled, and elegant curtains for your bedroom.
Display attractive artwork
Your bedroom is the only space in your house where you can relax and spend some quality time. If you are an art lover, and looking at some artistic design makes you feel tempered, display them on your bedroom wall.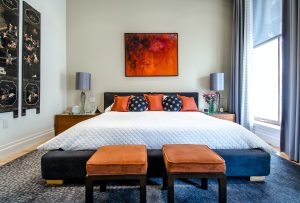 Source: Unsplash
You can also display some of your favorite pictures in your room. Use artwork and pictures according to the requirements of your room, and keep in mind the color combination.
Use light candles
If you want to add coziness to your bedroom, the best to get that feel is by lighting candles. The mood you can create at night with the help of lighting candles can never be created with anything else.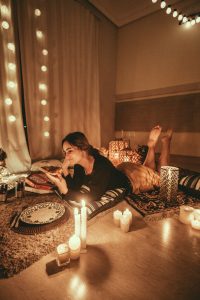 Source: Unsplash
Just imagine yourself reading your favorite novel, wrapped in a comfortable blanket, having your family alongside, and next to the candle. How's this feeling? Soothing, huh? Try this one in your room, and you will love the feel of it.
Add ceiling beams in your bedroom
We know it is difficult and troublesome to add wooden ceiling beams to your bedroom, but those beams will pay off for sure. The wooden ceiling won't only enhance the beauty of your room, but it will also make your space warm.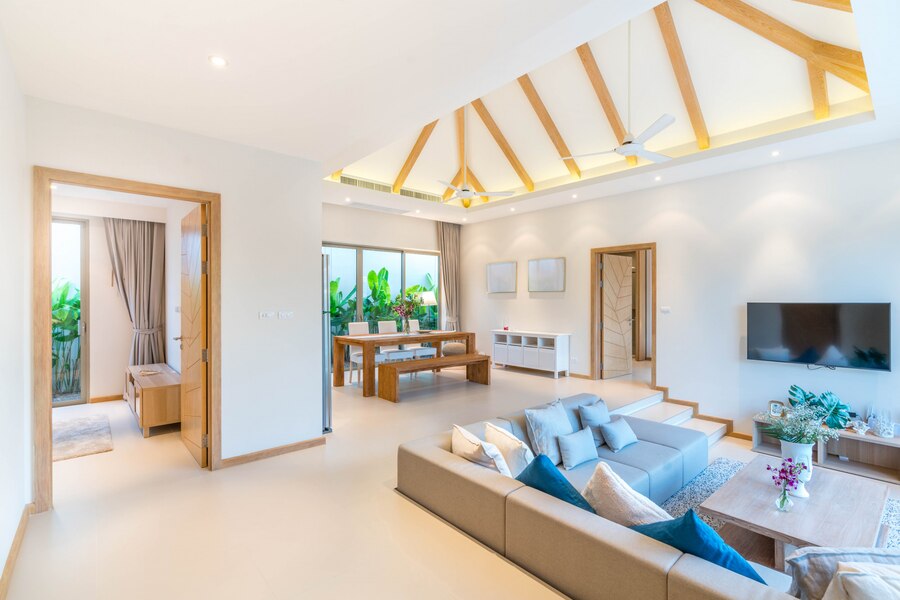 Source: Freepik
This is a modern design that is not expensive, but you can use it in your room to give your room an ambient feel at an affordable cost. This is the latest way of adding class to your room without even using any sort of space.
Bring much-needed calmness with green plants
Source: Unspalsh
It is legitimate to have green plants in your room to give natural effects. The soothing green plants will not only increase the beauty of your bedroom, but they will also be a source of oxygen. Don't add such flowers that need special attention and maintenance.
Invest in good bedding
When you are trying to make your bedroom look impressive and satisfactory, you need to give attention to the litter. No matter how nice-looking your bed is, if the bedsheet isn't remarkable, your mattress will present a hideous look. You must hate that, don't you?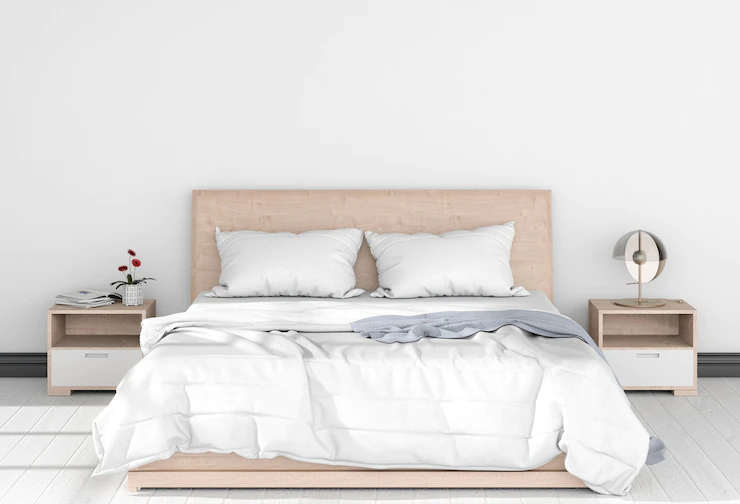 Source: Freepik
When you are choosing bedding for your bedroom, always go for high-quality fabrics. Prefer soft fabrics over others. This is one of the best ways to improve the overall outlook of your room.
Create one stunning canopy
To enjoy your time in your bedroom in the best possible way, make sure to create a canopy around your bed. This will add an extra comfort factor to your bedroom. Moreover, this will be perfect for your lazy Sunday mornings.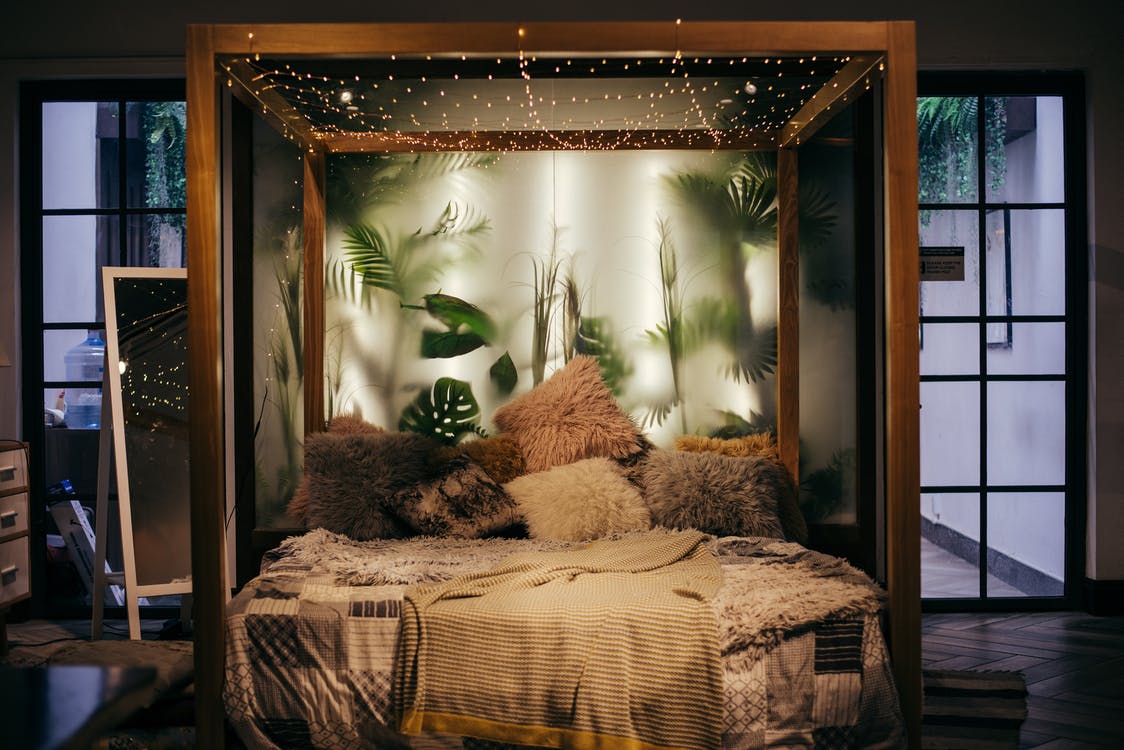 Source: Pexels
Drape your bed in ethereal textiles. Making a canopy will be enough to impress the visitors. By spending not much, you can give your bedroom a royal look.
Pile on the pillows
Bedrooms look more elegant, with large and small-sized pillows. Place some fluffy cushions on your bed, and enjoy your sleep in one of the most pleasing ways. Never be afraid of placing too many pillows in your bedroom.
Source: Pexels
The more you need a super-comfy look, the more the pillows are needed. Keep one thing in mind; never use ill-colored pillows. This will spoil the fun of your room. Use those pillows not only to give a valuable look to your room but to manage your sleep pattern too.
Hide electronics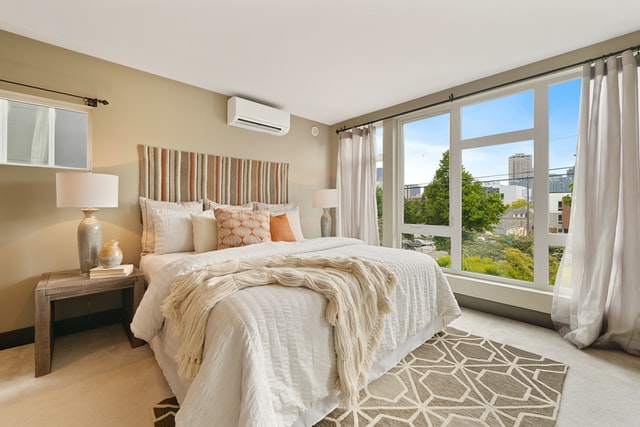 Source: Unsplash
Placing a T.V in your room can make you watch your favorite serials and movies, but if you want an ambient and cozy look, make sure to avoid placing any electronic device. If you need to, try to place your electronics in an armoire.
Create a reading nook
If you are searching for a suitable place in your room to cuddle up, read, or enjoy the view, there is nothing more worthwhile than a window seat. If you have a window seat in your bedroom, it'll be cool.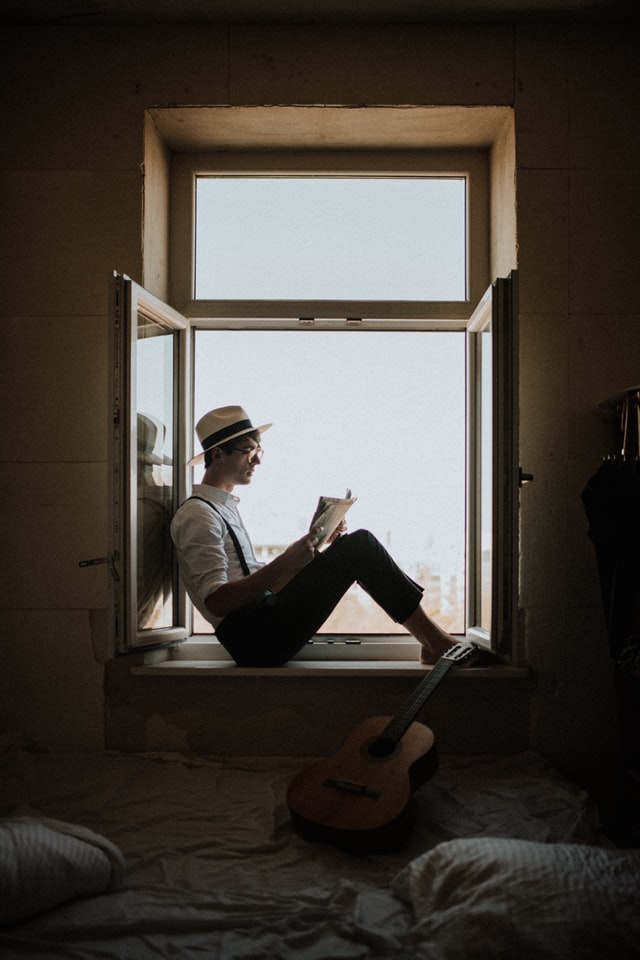 Source: Unsplash
Even if you don't have one, you can create a quiet nook in the corner of your bedroom. This will give you the same feel and a similar effect. That space will be used for your reading purposes. Moreover, this will add a unique flavor to your room.
Play with the patterns
The best way to decorate your bedroom is by giving it a homey look. Don't you know how to give your bedroom this homey look? Well, all you need to do is unexpectedly mix patterns. This can be applied to bedrooms of all sizes.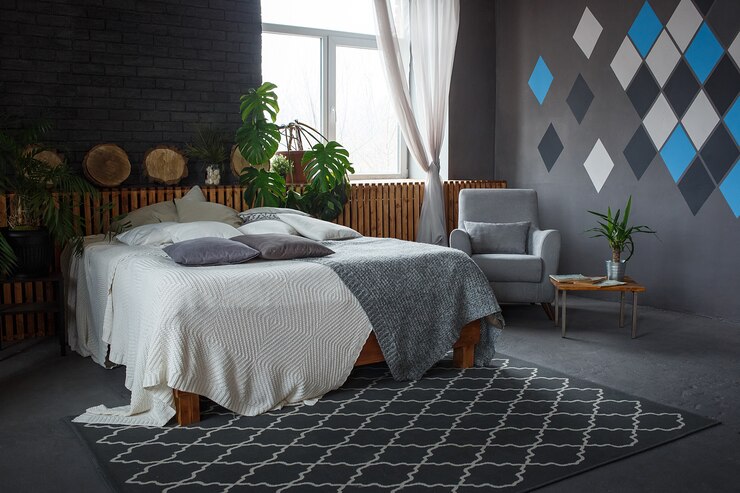 Source: Freepik
Your bedroom will give a seamless and subtle look with the help of a cohesive color palette that pulls the patterns together. These patterns will make you get rid of some irritable mood swings too. This is perfect for your room ambiance as well as for your relaxation.
Conclusion
Everybody wants to live in a dignified and illustrious bedroom. However, not many of them know how to make their bedrooms look pleasing to the eye. Here, we have described all the possible ways one can use to improve the overall look of a bedroom. What are you waiting for? Use all the above-mentioned techniques to make your bedroom monumental.
This post was submitted by Heather Clinton. She is an interior designer by profession, and it is her passion to decorate bedrooms according to the requirements of the clients. Her goal is to let the bedrooms look satisfying at an affordable cost. She thinks that the entire mood of a person depends on the environment of a bedroom. This is why your bedroom has to be spot-on.